Worlds apart
William Skyvington
Gamone, 38680 Choranche, France
phone France 33-4 76641832
e-mail sky.william@orange.fr
This website presents fragments of information related to my Australian background, such as family history and my birthplace (Grafton, NSW). My title, Worlds apart, alludes to the fact that I live now in a remote place on the other side of the planet. It's a rural setting, like Waterview (South Grafton) where I grew up, but the two places are very different.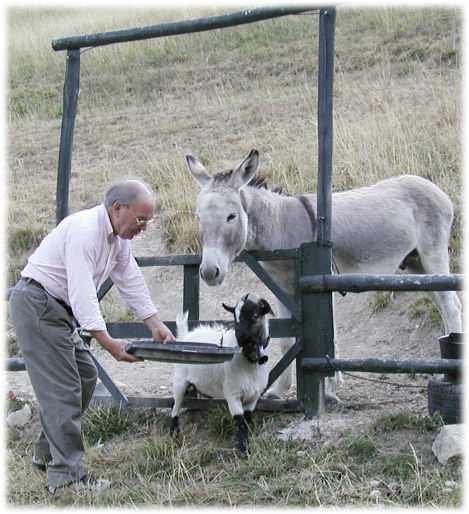 The old gray-haired guy on the left, with glasses, is me. The other gray-haired guy, without glasses, is my donkey Moshé (Hebrew name of Moses). The young fellow with a bell around his neck is my midget goat Gavroche (adolescent personage in Hugo's Les Misérables). I'm offering a dish of wheat to my companions at Gamone. The photo was taken by Natacha Boudoul.
---
The story of my mother's people. Genealogical monograph. This site (in constant construction) lets you download a PDF (printable) version of my on-going research into my maternal ancestors (Walker, Kennedy, O'Keefe, Cranston, etc). I describe links between the family of Charles Walker at Reidsdale and the Clarke and Connell bushrangers. Later, most of the events are located in the Clarence River region.
---
During my childhood in South Grafton, I was proud to be a nephew of two former track cyclists: Johnny "Cyclone" Walker and Charlie Walker.
---
A remarkable hand-drawn map of South Grafton as it existed in the 1880s was first published in 1967, and recently reprinted by The Daily Examiner. This map is reproduced here, along with a few comments.
---
An old photo from my maternal grandmother, Mary Kennedy [1888-1966], shows unnamed people posing aboard a riverboat, the Atalanta, at Riverstone. I have enlarged pieces of the photo, in the hope of identifying some of the individuals.
---
Here are five of my school photos of the 1950s from South Grafton primary school and Grafton high school. In 2003, I spent a lot of time talking through the Internet with Lynn Pollack [who died in 2004] about the identity of the people in these photos. There are still many blanks that could and should be filled in.
---
From time to time, I am asked to supply a printer-quality photo of myself. There are ten such photos here, all of a casual nature (such as the photo at the top of this page), taken by my friend Natacha. They are big JPG files, which can be downloaded ideally through a high-speed Internet connection.
---